TrackRight is a tool that makes it easy to monitor keyword rankings for clients. With TrackRight, users can track keyword rankings across the most popular search engines, including Google, Yahoo, and Bing, for any location they require. The tool allows both clients and users to see keyword history and track changes in rankings over time, ensuring that clients are always receiving the results they desire
Schedule Demo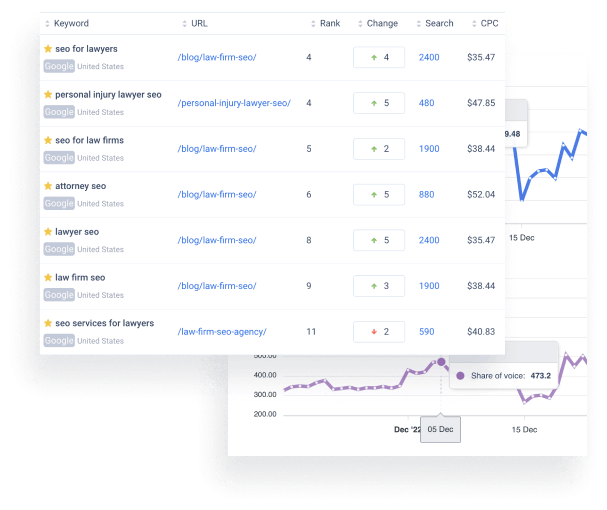 What is a Keyword Rank Tracker?
An essential instrument for SEO professionals is a keyword rank checker or keyword tracking tool. Keyword rank tracking is the analysis of the positions of selected keywords that a website ranks. This process is important to understand how well a website is doing in regards to rankings on major search engines such as Google, Yahoo, and Bing.
The data that is gathered from keyword rank tracking can help show where a website needs improvement and what strategies may need to be changed or implemented in order to increase the ranking of desired keywords. Furthermore, this type of analysis can give professionals an idea of how their competition is fairing in relation to their own website's rankings. An SEO keyword tracker can keep digital marketers informed on the critical keyword metrics of both themselves and their other competitors in the market.
There are a number of different keyword tracking tools available on the market, each offering its own unique set of features. However, all of these tools share one common goal: to help you detect competitors who are ranking and targeting the same keywords as you.
Manually tracking keywords through search engines can be a time-consuming and tedious task. Not only do you have to constantly monitor your own rankings, but you also have to keep an eye on your competitor's movements. This can quickly become overwhelming, especially if you're tracking a large number of keywords.
A quality keyword tracking tool, like TrackRight, can automate this process and make it much easier.
By periodically checking your rankings and monitoring your competitors, a keyword tracking tool can give you the insights you need to adjust your own strategy. This can help you stay one step ahead of the competition and ensure that you're always targeting the most valuable keywords. A unified keyword tracking tool enables SEO professionals to seamlessly understand their rankings. This is why TrackRight provides the best keyword rank checker in the market.
Why you should use TrackRight for tracking your keyword ranks
Trackright is a keyword rank checker that has a quality and streamline user experience. It provides all the essential metrics to effectively rank check, including search engine results pages (SERP) position, daily keyword position tracking, historical keyword rankings, and more. This information can be used to improve SEO for any website.
Furthermore, Trackright offers analysis and recommendations on how to improve keyword ranking. This makes it an essential tool for any business that relies on search engine traffic for leads and sales. Overall, Trackright is a powerful and easy-to-use keyword rank checker that can help any business improve their SEO.
TrackRight's Keyword Rank Tracking Dashboard
TrackRight's Keyword Rank Tracking Dashboard is optimized to create a simple streamlined experience for its users. Here is where users can find a wealth of important information about their keyword tracking. The dashboard includes readily available information about keyword and SEO performance for multiple domains.This includes number of keywords, pages, and users.
The keyword rank tracking dashboard also has an impressive capability to compare performance. This includes tracking change over varying time periods for specific domains and comparing the change of specific domains against one another. The TrackRight seo keyword rank tracker also makes it easy to organize domains. The dashboards filtering, tagging, and favoriting tools makes it easy to keep user domains perfectly organized based on needs. The keyword tracking tool dashboard provides the optimal user experience to its users making gathering information on keywords seamless.
SEO Keyword Tracker Reports
The TrackRight keyword rank tracking tool provides reporting capabilities for its users. With the reporting tool users can easily generate and schedule reports for multiple domains. These reports are conveniently organized and easily accessed. The report building tool makes it simple for users to generate reports tailored specifically for different domains.
With both instant and scheduled keyword ranking reports users can stay constantly informed on the performance of their keywords. These reports can include information on organic keywords, GBP keywords, traffic and more. Another important feature of the reporting tool is its ability to provide comparisons of previous reporting periods. This allows easier keyword ranking tracking overtime for users.
TrackRight can monitor competitor keywords, here's why it matters
Keyword rankings can change quickly for a variety of reasons, some of which may signal possible optimization efforts or changes by competitors. If you notice a sudden drop in keywords rankings, it's important to take a closer look at what might be causing the decline. Questions you may ask about these changes include.
Are there any new competitors in the market? Have they made any changes to their optimization efforts? Are there any other factors that could be affecting your keyword rankings? By keeping an eye on keyword rankings and other SEO metrics, you can stay one step ahead of the competition and make sure your site is always optimized for the best results.
The rankings of your competitors can give you valuable insights into the effectiveness of their optimization strategies. If they have strong and stable rankings, it is likely that their pages are well optimized and have high link authority. This knowledge can be very useful in shaping your own optimization strategy.
By understanding what works well for your competitors, you can adapt and improve upon their methods to achieve even better results. In addition, by monitoring their rankings over time, you can stay one step ahead of the competition and make sure that your own website maintains a top position in the search engines.
If you're trying to rank for certain keywords but keep coming up short, it can be frustrating. However, if you take a step back and look at your competitors, you may be able to glean some important information. If your competitors have weak or declining keyword rankings, it's a sign that their content is unoptimized.
This presents an opportunity for you to capitalize by improving your own content. By doing some research on their ranking and fine-tuning your content strategy, you can improve your keyword rankings and get ahead of your competition. In today's digital landscape, understanding how to optimize your content is essential for success.
How can TrackRight's accurate keyword rank tracking separate you from the competition?
Keyword rank tracking is an essential tool for any business that wants to stay ahead of the competition.
It allows you to track your progress over time and see what keyword strategies are working for you.
This information is vital for developing an effective seo keyword tracker strategy. TrackRight is a keyword tracking tool that is accurate and updated regularly. This will ensure that you have the most accurate information possible and can make informed decisions about your keyword strategy.
By closely monitoring your keyword rankings, you can quickly identify which strategies are working and which need to be tweaked. The TrackRight keyword rank tracking tool can give you a major advantage over your competition. Without keyword rank tracking, seo campaigns can be misinformed making it much harder to separate from competitors.
How TrackRight's Keyword Tracking Can Boost Revenues
Keyword rank tracking is a powerful tool that can help boost revenues by identifying which pages initiate conversions.
By tracking the movements of keywords up and down the search engine rankings, businesses can get a good idea of which pages are being seen by potential customers and which ones are being ignored. This information can then be used to make changes to the website in order to improve conversion rates.
In addition, keyword rank tracking can also help businesses to identify new keyword opportunities that they may not have considered before. By tracking the keyword rankings of competitors, users can see which keywords are driving traffic to their website and adjust their own keyword strategy accordingly. In short, keyword rank tracking is an essential tool for any business that wants to improve its online visibility and boost its bottom line.
How TrackRight's keyword tracking can help solve traffic drops
When trying to determine the cause of a drop in traffic, keyword rank tracking can be an invaluable tool. By monitoring the ranking of high-traffic keywords, it is possible to quickly identify when a post suddenly drops in rank. Additionally, by tracking the rank of several keywords, it is possible to deduce whether the drop is caused by a general decrease in keyword rankings or by specific keywords falling in rank.
If manual penalties are suspected, keyword rank tracking can also help to identify patterns that may indicate that a penalty has been applied. Finally, keyword rank tracking can be used to deduce new SERP features. By observing how keyword rankings change over time, it is possible to infer when new features have been rolled out by Google. As such, keyword rank tracking can provide valuable insights into why traffic has dropped and how best to address the issue.
How Keyword Ranking Reports Make Sense of SEO
A keyword ranking report is a valuable tool that can help explain the complicated work of SEO to people who are unfamiliar with the field. The report shows how a website is performing in terms of keyword ranking, and it can be used to identify areas where improvements need to be made. The report can also be used to track the progress of an SEO campaign over time.
By regularly monitoring keyword rankings, businesses can ensure that their campaigns are on track and that they are getting the most return on their investment. In addition, keyword ranking reports can help save time by quickly identifying which keywords are driving traffic to a website. As a result, keyword ranking reports are an essential tool for anyone who wants to understand the complex world of SEO.
How TrackRight's Keyword Tracking Can Increase Efficiency
For businesses that rely on search engine traffic, keyword tracking is essential. It allows you to see which keywords are driving traffic to your site and identify any potential problems. Manually tracking keywords can be very time-consuming, however, TrackRight automates keyword tracking, saving you hours of time.
Automated keyword tracking is far more efficient than manual keyword tracking, and it can provide you with valuable insights into your search engine optimization efforts. If you want to get the most out of your search engine traffic, TrackRight is an essential tool.
"The real winner over other tools is how it captures and reports on leads though. It's easy to use and has a lot of features that are really helpful"
Jason Schulz
Alphabet Services