In today's digital age, having a strong online presence is crucial for any local business looking to attract new customers and grow its brand. One important aspect of an online presence is managing your Google Business Profile effectively, and this is where TrackRight comes in.
Our Google Business Management service helps businesses increase visibility on Google Search, Google Maps, and other platforms by optimizing their Google Business Profile for maximum impact.
Rank in the Maps Pack
Are you even online if your GMB isn't ranking in the Google Maps pack? If you aren't showing up in the top 3 results, your visibility is virtually zero.
Optimizing locally should be your top priority to get your highest return on investment for digital marketing and SEO. Find out where you're ranking in your neighborhood with TrackRight.
Dominate Local Search Results
Get an accurate view of your GMB rankings with comprehensive multi-point automated rank tracking tools.
Say goodbye to guesses and blind weak spots. Find out where you rank for local search across several scan points and set custom parameters to reach your target audience more effectively. 
Track Your Competitors
Using TrackRight gives you an edge over your competition. When you run an analysis report, you can see which competitors are claiming the top spots, what keywords they are ranking for, and their strengths and weaknesses.
Then, using TrackRight's SEO tools, you can develop tactics to improve visibility and strategies to outrank them. 
GMB Management Tools
We offer comprehensive GMB management systems and SEO tools to make your life easier:
Use of TrackRight, our local geo-grid rank tracker
Opportunities to respond to and monitor web reviews
Schedule GMB content to post later
Analyze contacts to see how users are interacting with your GMB profile
Generate daily, weekly, bi-weekly, monthly, annual, or custom reports
Automated reports and user-friendly dashboards
Measure and Focus Visibility Efforts
When your GMB is underperforming, if you hope to boost your rankings, you'll need to measure the performance of your target keywords. TrackRight generates automated reports that measure where you are ranking. With this intuitive software, you can identify poorly ranking keywords, focus your SEO efforts, and effectively manage your rank position. 
What can you do in Trackright to manage your GBP?
With Trackright, visitors can see an overview of your Google My Business profile. The business information that will be available includes:
Your business name
The company's address
Your website URL
The company's phone number
Your hours of operation
A description of your business
Your business category
Photos uploaded to your Google My Business profile
Using track right, you can edit this information to ensure your GMB is continually updated. These updates will also boost rankings.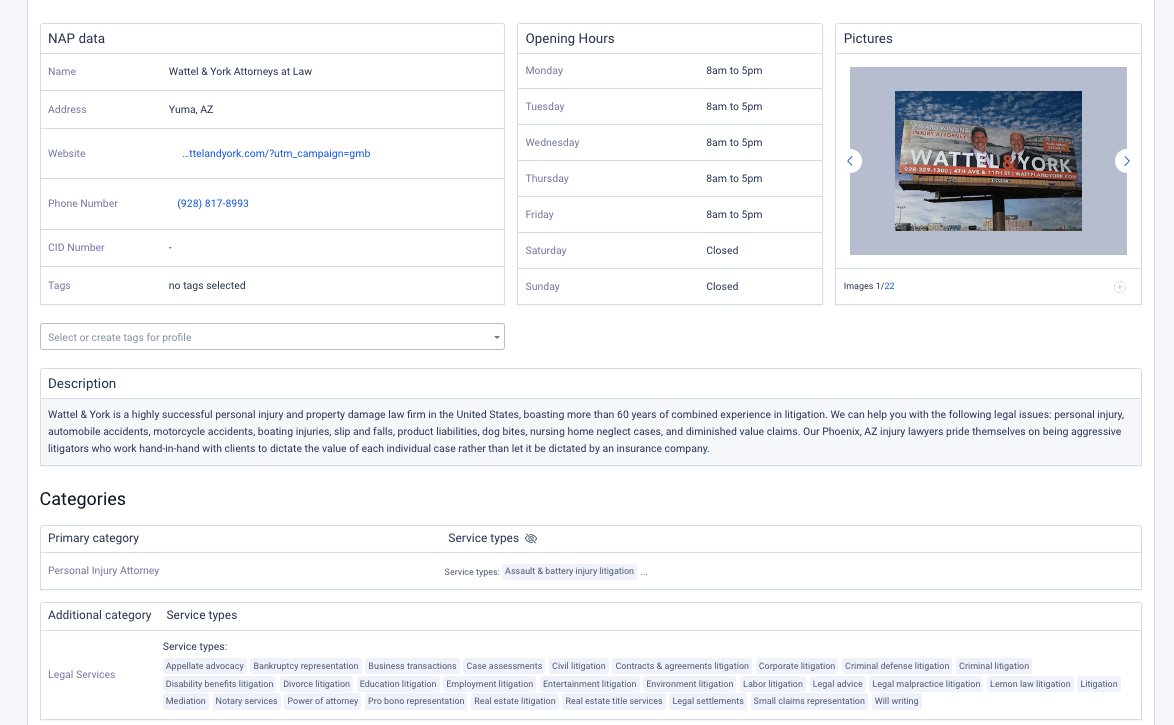 Google My Business Insights
When you want to see how your GMB is performing, you can use track right to set up custom actions, such as requesting directions, visiting your website, or calling your office. This allows you to see how users are interacting with your profile and track the phone calls your profile receives. You can also:
Utilize an overview of your Google map rankings
View and customize Geo Grids 
GMB Management FAQ
Managing your GMB profile can be confusing, especially when you don't have the time or experience to devote to keeping it updated and optimized. Thankfully, with TrackRight, you can devote more time to your business while your software handles the bulk of the work.
Wondering more about why TrackRight is the best option for your GMB management tools? Check out this quick FAQ or contact us with specific questions:
How much does TrackRight GMB Management Cost?
One of the top perks of TrackRight is our affordable pricing plans. Start with a 100% Free, zero-risk 7-day trial before you subscribe. Then, you can sign up for our Standard plan at just $25 per month or our Premium plan at $99 per month.
If you prefer, you can create fully custom plans to meet your price point. This way, you can hand-select the services that interest you most within your budget.
Why should I choose TrackRight to track my local rankings?
You need to outrank your competitors to be successful. The only way you will get your GMB ranking in the map pack is through a well-optimized local search. TrackRight gives you all the SEO tools you need to identify target areas, determine which areas need improvement, and boost visibility.
Why do I Need TrackRight if Google My Business is Free?
While Google My Business is a free tool offered by Google, managing your Google Business listing effectively can be time-consuming and requires a certain level of expertise.
This is where TrackRight comes in – we offer a Google Business Profile Management service that can help businesses optimize their Google Business Profile for maximum impact.
Set Up TrackRight and Manage Your GMB Profile With Ease
Google Business Profile Management by TrackRight is an essential service for any business looking to improve its online presence and attract more customers. Whether you want to enhance your visibility in Google Search, Google Maps, or other platforms, our team of experts can help you create a Google Business Profile that genuinely stands out.
Start your 7-day, 100% FREE trial today and see why TrackRight is the premier solution to your GMB profile management problems.