Geo-location rank tracking refers to monitoring the ranking of a website or webpage in a specific geographic location. This type of tracking is beneficial for businesses that have a physical presence within a particular area and want to improve their visibility in local search results. Geo location rank tracking tools like TrackRight can provide businesses with detailed reports on their local search rankings. This information can be used to optimize Google My Business profiles and the content on your website or to develop targeted local SEO campaigns.
Schedule Demo
Customizable Geo Location Radius and Target Areas
TrackRight allows you to set fully customized geo location radius and target areas, so you can go after the neighborhoods and dominate the local search rankings. With TrackRight, you can:
Design custom geo grids of all shapes and sizes

Move location points to designated areas

Delete irrelevant locations from your geo grid

Make use of multiple grid size templates
Outrank the Competition
With geo location tracking, you can reveal hidden insight into how your competitors are ranking, which pages are beating you in the SERPs, and the areas where they are performing well. With this information, you can use TrackRight's SEO tools to develop comprehensive strategies to improve visibility and outrank your competitors.
Choose Top-Performing Locations
When starting your business, TrackRight can help you decide where to build your office space. If you know a specific area you'd like to target, you can use this software to see how competitive the location is and implement strategies to boost local search rankings.
Analyze Performance Over Time
To get a clear understanding of how your GMB and website landing pages are ranking and why, it is crucial to have access to data that shows their performance over time. With TrackRight, you can analyze these rankings and see problem areas to refocus your efforts.
Track Multiple Listings in One Place
Successful businesses often have multiple websites and GMB profiles. TrackRight allows you to manage multiple listings, content, posts, target keywords, and rankings in one place. This way, you can gain insight into the performance of your business's collective web presence.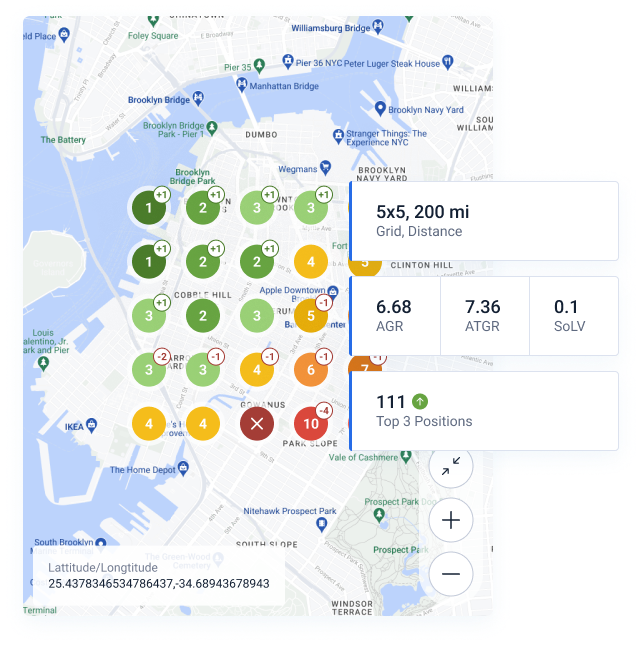 Measure and Focus Visibility Efforts
If you don't know how your keywords and content are ranking, you can't make adjustments. With our geo location rank tracking tools, you can identify areas and keywords that are performing well and which need attention. With TrackRight, you can see the following:
Where you rank in the Google Maps pack

Your Average Rank Position (ARP)

Your Share of Local Voice (SLV)

Where to spend your digital marketing budget

Your Average Total Rank Position (ATRP)

Search visibility across the geo grid map
Geo Location Rank Tracking FAQ
We understand that geolocation rank tracking can be confusing. You may be unsure whether this software is the best fit for your SEO and marketing efforts. However, with TrackRight, you can access management tools and data that will help you get your greatest return on investment.
Do you have additional questions about how geo location rank tracking works or how track right can help you outrank your competitors? We've got answers. If you have other questions we do not cover on this page, do not hesitate to contact our team of experts to discuss your specific needs further.
Try TrackRight Today With a 100% Free Trial
If you want to see how you rank with potential clients, TrackRight has a whole suite of tools to help with keyword tracking and keeping an eye on your local ranking. Start using TrackRight today when you sign up for a 100% free, 7-day trial! Message us through our online portal or call for help getting set up.
Our expert team is ready to answer your questions and provide a personalized demo of our geolocation rank tracker. Let TrackRight start tracking today and get ready to outrank your competition.